Looking for an Accounting Career? 3 Ways to Get Qualified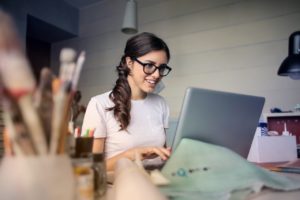 Accounting is a field that offers stability and a generally good salary for Americans seeking a long-term career. But what do you need to do in order to get started in accounting? Here are three ways to improve your skills to begin working in the accounting field.
1. Get a Degree
Entry-level accounting jobs often do not require a full college degree, but a degree may be useful if you want to start out at a higher level. For nearly all accounting work, you'll need a high school diploma or the equivalent. You can also get accounting certificates and two-year associate's degrees through many community colleges and technical schools. These midrange degrees allow you to learn the skills needed to work as an accounting technician or work independently in an established accounting process. Most mid-level accounting positions call for a bachelor's degree in accounting or finance. In these programs, you learn the advanced skills that are used to qualify for a position as a junior accountant and eventually an accountant. A junior accountant prepares financial reports, handles tax issues, and works on audits. They generally work under the leadership of an accountant. You may then choose to move into the accountant position or even work in auditing. If you want to pursue a CPA (Certified Public Accountant) career, you'll generally need to start with a bachelor's degree and some post-graduate classes. You get real world experience according to state requirements, then sit for the CPA exam.
2. Start as a Clerk
Accounting clerk is the primary entry-level position in accounting offices. The accounting clerk performs many of the daily, repetitive transactions and data entry needed. He or she is supervised by an accountant or department manager and generally won't see much of the big-picture aspects of the company books. Often, clerks begin by supporting the accounts payable and accounts receivables functions – which pay bills and invoice customers, respectively. These jobs have many daily entry requirements, work with vendors and other departments to get paperwork, and help with closing. You may also find clerk work in the payroll department as well as helping with inventory or purchasing – all of which are correlated with accounting. Any of these jobs gives you a real world understanding of how accounting actually functions. You can work for years in accounting and move up the career ladder with experience even though you have little formal training.
3. Build Relevant Skills
If you want to skip the accounting clerk level, you may want to focus on building specific skills used in the accounting department. Quickbooks, for instance, is one of the most widely used accounting and bookkeeping software systems in use by small businesses. If you become trained and skilled in navigating and using Quickbooks or Hyperion software, that skill often makes up for a lack of experience and training. In addition, you should become proficient in common word processing, spreadsheet, database, and email systems used in many offices. Accounting personnel within companies must work with others on a daily basis, so you should build your soft skills too.  These soft skills include learning how businesses function and how finance affects other parts of the company, how to effectively communicate in different mediums, how to be a leader, and how to serve customers both inside the company and outside it. Do you think you have what it takes to start working towards an accounting career? Start by talking with the career experts at BIRK Staffing & Technical Services. We can help you evaluate your current skill set and resume to see where you best fit into the accounting world. Make an appointment today.